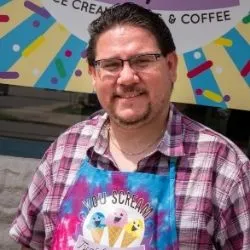 Sharing scrumptious treats and making you smile is the mission at You Scream Treat Emporium. It is our goal to spread joy through the mutual love of sweet treat deliciousness. We want you to come into our shop, smell all the smells, sample the flavors, treat yourself, and leave feeling like your day just got a pick me up.
After all, at You Scream Treat Emporium, we know treats. And, we know you're going to love what You Scream has to offer. 
When You Scream Treat Emporium owner Chris Brady was 7 years old, like most kids at that age, he was already a lover of sweets. But unlike most 7 year-olds, Chris was already passionate about decorating his own cakes. His love for a good dose of sugar translated into years of baking and decorating cakes for everyone in his family.
Whether it was birthdays, weddings, anniversaries or other milestone events - Chris was the one in charge of cakes. 
From Community Roots to Sweet Success
A Cañon City Native, Chris has been an active member of the community from an early age. Whether he was spending his time working at the Chamber of Commerce, doing floral design at City Market, or as a 25-year volunteer on the Blossom Festival Board, he does it all because of his deep love for the community of Cañon City. 
So it was only natural for Chris to open You Scream Treat Emporium, smack dab in the middle of the town he loves so much, with the hopes that You Scream can become a staple for visitors and residents alike. More than 25 years since he decorated his first cake, he has expanded his passion into ice cream, in-house made goodies, seasonal treats and so many more surprises. 
But don't take our word for it. Come visit us at You Scream Treat Emporium and see for yourself. We promise you'll leave with a smile on your face, a pep in your step, and a little more appreciation for the sweeter things in life.