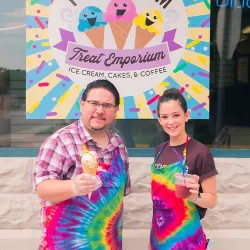 Welcome to You Scream Treat Emporium, a family-owned and operated small business located in the heart of beautiful Downtown Cañon City. Our mission is to provide our customers with the best treats and create a sense of community and happiness that makes everyone feel right at home, no matter where they come from.
At You Scream Treat Emporium, we take pride in serving up the tastiest treats you've ever tasted. Our selection includes a wide variety of ice cream flavors, as well as dinner cakes, ice cream cakes, sodas, shakes, sparkling lemonades and limeades, sundaes, and seasonal treats that are sure to make your mouth water.
If you need a little pick-me-up, we've got options! Our craft coffees are handcrafted using only the freshest ingredients. We're confident that our coffee is the cream of the crop and will leave you feeling energized and refreshed.
Sweet treats for Everyone's Taste
Whether you're a local or just visiting our wonderful little town, we invite you to let your nose lead you to the sweetest little ice cream shop around. Our delicious treats are made with the highest quality ingredients and we offer sugar-free, dairy-free, and vegan options to ensure there's something for everyone.
At You Scream Treat Emporium, we know that once you try our goodies, you'll be screaming for more. So come on in and experience the joy of our delightful treats and the warmth of our welcoming atmosphere. We can't wait to see you!
Colorado-Made Ice Cream
All of the delicious ice cream flavors we offer at You Scream Treat Emporium are handmade by Anne & Mann's Homemade Ice Cream in Colorado Springs. We take pride in supporting another small, local Colorado business and are committed to using only the highest quality ingredients in our treats.
Our partnership with Anne & Mann's ensures that our customers can enjoy the most delectable, creamy ice cream flavors while also supporting the local community.